Second Spring Oxford: Editorial & Educational Services for the Catholic Community
Find us on social media: Twitter, Facebook, Pinterest, and Instagram.
You can also visit Stratford Caldecott's three blogs:
 Beauty in Education is for parents, teachers, and students
 All Things Made New is for mystics, theologians, and seekers
 The Economy Project is about Catholic social teaching, ecology, etc.
LATEST NEWS:
INTER-FAITH COLLOQUIUM  On 20th July, 2-5pm, we held a free event in The Aula at Blackfriars' Hall, Oxford, titled 'From Darkness to Light: God's Call to the Creature in Christianity and Islam'. Speakers Carol and Philip Zaleski, Stratford Caldecott, and Karim Lahham explored Christian and Islamic understanding of creaturehood, and its implications for the way we think about personal identity, human potential, happiness, eternal life, and work. Plans for publication of the talks and for future interfaith colloquia will be announced here.
PUBLISHING  We are excited to announce the launch of Stratford Caldecott's new book, The Radiance of Being: Dimensions of Cosmic Christianity, from Angelico Press! More information and testimonials are available on the publisher's page. You can purchase via Amazon. Also recently, with the first part of the new Hobbit movie released in cinemas and on DVD and the second part coming later this year, the publishers Crossroad have published a new, expanded edition of Stratford Caldecott's well-received book on the great Catholic writer J.R.R. Tolkien and the spiritual meaning of Middle-earth. Called The Power of the Ring, the new edition incorporates and supersedes the earlier Secret Fire published by DLT, which is now out of print. A brand new Spanish edition of the same book, El poder del Anillo, is also available.  Meanwhile BEAUTY IN THE WORD: Rethinking the Foundations of Education, Stratford's sequel to Beauty for Truth's Sake, completing his study of the seven Liberal Arts, was published in 2012. Education is in crisis, and new possibilities are opening up all the time, but any genuine reform will have to be based on an understanding of what education is for. Follow the link to find out more (and read an article on the whole project here). It is published by Angelico Press and available through Amazon. Read the interview.
'The Tempest of the Times: the Dilemma of Catholic England from the Reformation to the Modern Age', Oxford, 12th-26th August. With lectures from Clare Asquith, Dr Michael Ward, Alice Hogge, our Directors, and others on topics that include Shakespeare, J.H. Newman, C.S. Lewis, and J.R.R. Tolkien, visits to London and a recusant-era house complete with priest holes, this year's 'Centre for Faith and Culture' summer school looks set to be fabulous. The programme is organized in conjunction with Thomas More College of Liberal Arts, NH, who will be running an extra week directly before the Oxford course on their campus for all undergraduate students wishing to acquire course credit for attendance. The course is aimed at a high undergraduate level.  See details here, and email us for more information: [email protected]
COLOURING BOOKS  Stocks are low of our much-loved The Mass Illustrated for Children, designed not just to keep a child quiet during Mass, but as a rich resource for parents and catechists to use to explain what happens in the liturgy to young children – to stimulate both faith and imagination. If you are thinking of placing an order this spring, get in there quickly! Meanwhile, Scott Hahn's introduction to the Bible for children (God's Covenant with You), a colouring book illustrated by David Clayton in the style of classical icons and illuminations, is still available, along with our other titles, all at bargain prices. Books in the Second Spring Catechesis series are available through Thomas More College in the US or directly from our distributor in the UK. More books are in preparation. See the books in action in this featurette or Second Spring Catechesis film. FOR DETAILS OF HOW TO ORDER, look under the BOOKS section in the left hand menu.
A MOTHER'S WORK  
The 
sixth issue of 
Humanum,
 the FREE online book review journal of the Pontifical John Paul II Institute in Washington, IS NOW AVAILABLE. The fifth issue was on the problem of ABSENT FATHERS, and the fourth issue on same-sex unions and the debate over gay marriage. The previous issue examined the use of technology in human reproduction. Edited by Stratford Caldecott, 
Humanum
 (not to be confused with 
Humanitas
 – see below) regularly examines some of the most pressing issues of our time, especially as they affect the most vulnerable members of society, and includes a round-up of relevant life, health, and family news from around the world. Follow the link and click for a free subscription – that way we can alert you each time a new issue is published!
SECOND SPRING JOURNAL  2012 marked two decades since the first appearance of our flagship journal Second Spring as a supplement in Catholic World Report. The sixteenth issue is on the theme of Holy Vessels and includes articles by Duncan Stroik, Margaret Atkins, Jerome Bertram CO, Margaret Truran OSB, Léonie Caldecott, and others. The fifteenth issue, still available, was guest-edited by Christopher Blum on the theme of Faith and Science. You can purchase back issues from Thomas More College in the U.S., or contact us at the Oxford office. The seventeenth issue, on the theme of the Economy, is on its way!
MAGNIFICAT  The popular monthly prayer book and missal MAGNIFICAT, which we edit for the UK and Ireland, is now available as a iPhone/iPad app. It contains spiritual meditations for every day of the year by the great writers andsaints of our tradition, with a beautiful cover as well as high-quality artwork to accompany an art essay in each issue. MAGNIFICAT is a wonderful aid to daily prayer and meditation, even if you can't get to Mass each day. The UK/ Ireland/ Australia edition is edited from our office in Oxford and can be viewed online here. (It is on Twitter and Facebook too.)
ASSOCIATED PROJECTS: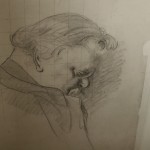 G.K. CHESTERTON  The CHESTERTON LIBRARY (Charity No. 1134101), originally collected by Mr Aidan Mackey and curated by our Centre for Faith and Culture for several years, has moved to the Oxford Oratory's new study centre devoted to Newman and the Literary Revival. Academic and Christian interest in the great English writer G.K. Chesterton is growing worldwide, and the new study centre will eventually contain a room dedicated to him where the unrivalled collection of books and memorabilia will be made accessible to scholars and visitors. Funds are still urgently required to finish the project and shelve the books and display miscellanea. If you wish to become a supporter of this worthy project, by supporting either the Oratory Building project or the Library Trust itself, go to the Library page where all relevant links are maintained. A Press Release is available on request.
THE SIERRA LEONE CHESTERTON CENTRE  was started by a former student of Plater College and Oxford University, John Kanu, and is a centre for community-led sustainable development inspired by the Distributist ideals of G.K. Chesterton in one of the world's poorest countries. It is helping to revitalize the rural economy on which the country depends. It desperately needs equipment and tools, ranging from scissors to computers and generators. Detailed information is available on request. Help if you can!
Here is a lovely picture of Aidan Mackey and John Kanu at the gathering of the Società Chestertoniana Italiana last month:
THE IMAGINATIVE CONSERVATIVE  If you haven't already come across this online journal, 'for those who seek the True, the Good and the Beautiful', we would like to recommend you waste no time in getting acquainted! With a hearty dose of several essays a day on culture, liberal learning, politics, political economy, literature, the arts and the leading thinkers in Imaginative Conservatism (Russell Kirk, T.S. Eliot, Irving Babbitt, Christopher Dawson…), the community provides much food for thought. Stratford has recently been appointed a Senior Contributor.
HUMANITAS  This important international journal of Christian anthropology and culture, from the Pontifical Catholic University of Chile, is also available in a beautifully produced English language edition. The first English-language issue is about the legacy of Pope John Paul II, the second has a number of important articles on Pope Benedict's call for a broadening of human reason, the third  is on the theme of the Year of Faith. The fourth is a tribute to Benedict XVI and Pope Francis, and contains a profound analysis of our cultural crisis from Archbishop Bergoglio, as well as lavishly illustrated articles on modernity, Hildegard of Bingen, Jean-Jacques Rousseau, and J.R.R. Tolkien. The issue can be read online with free registration. Also now available for free download from the Humanum site is a Vademecum or Handbook of John Paul II's anthropology, plus a selection of other useful and important documents from John Paul II and Benedict XVI.
Stratford, Léonie, Teresa Caldecott; & Sophie Lippiatt